Attraction on Camping Tramp b> p>
Camping Tramp is a "small town". You will find everything you need to spend a successful holiday, vacation or a short trip to the sea. At your disposal there is a shop, a kiosk, two bars, a canteen, a fish bar. Of course, campsites and campsites equipped with necessary utilities, fully renovated, modern, sanitary facilities and kitchen. P>
In the summer season, one of the key attractions directly located in the center are animations, available for the youngest children, adolescents and adults. Depending on the weather and the number of people, animations take place on the beach, in the resort or in the bistro / lounge. Clown, wild animal show, karaoke, disco, musical band performances, group games, competitions, movement games, stalking and many other attractions are waiting for you at Camping Tramp. p>
Do not wait, please reservations b> today! p>
BEACH
Here we have a "wild beach", in the most hot days of the year, our guests enjoy the Baltic sea. You can admire the beautiful cliff and old forest growing on it.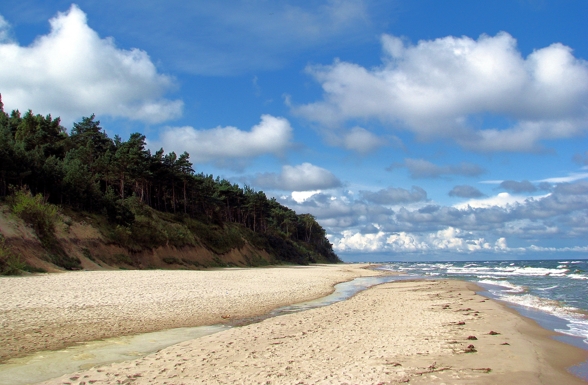 WOLIN NATIONAL PARK
VIKING FESTIVAL WOLIN-LIPIEC 2014
"Festival of Slavs and Vikings in Wolin it's a journey back in time to the darkness of the Middle Ages, during which you will see the culture of early peoples of the Baltic Sea. Every year festival gathers on a small island located on the Dziwna River over a thousand warriors, craftsmen from Poland and many European countries. It is also great fun for thousands of tourists. "
HOUSE OF WAX IN MIĘDZYZDROJE
SPORTS STARS FESTIVAL XIII IN DZIWNÓW
The best Polish athletes during the festival will be happy to talk with everyone and sign an autographs. Also in Dziwnów will be a concerts for tourists with several well-known Polish artists.
STONE "ROYAL" BY KAMIEŃSKI LAGOON
According to legend in the XII century, Boleslaw Krzywousty welcomed a parade of sailors standing just at the Royal Stone.